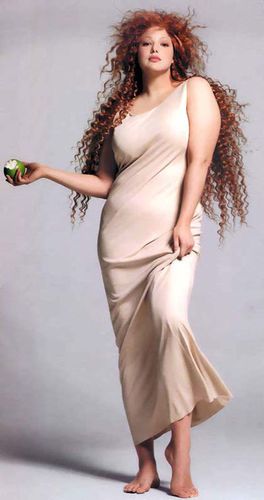 Femmes fortes: sortez-vos atouts et jouez votre carte 'séduction'...
Toute femme dite 'forte' pensant la femme dite 'fine' plus épanouie et plus heureuse se retrouve face un schéma mental erroné. Tout au plus, la femme mince ou dans la 'norme' se révélera plus difficile à vivre, moins agréable, tant elle tend à s'astreindre des règles qu'elle peine à respecter pour continuer à entrer dans son slim taille 36 ou 38…
D'une part, je crois fortement que la beauté est dans l'œil de celui qui la contemple mais aussi dans l'état d'esprit de la personne dite 'belle'. Il est clair que notre société impose trop souvent un certain diktat de la beauté mettant de côtés les femmes plantureuses.
Clarifions d'ores et déjà certains préjugés :
La femme forte n'est pas ainsi car elle ingurgite des quantités gargantuesques de nourriture ou qu'elle se laisse trop aller : elle, comme nous toutes, a un capital et un héritage génétiques qui fait que l'on est comme on est et que l'acceptation de ce fait est un grand pas vers la guérison et le bonheur…
Alors voici quelques conseils pour la femme plantureuse (c'est d'ailleurs aussi valable pour toutes les femmes) :
- Commencez par vous aimer et vous accepter telle que vous êtes
- Essayez de vous dépenser un peu et d'adopter une hygiène alimentaire équilibrée (un corps sain dans un esprit sain)
- Côté tenue : laissez-parler la Vamp qui sommeille en vous!!!
- Débarrassez-vous des caleçons qui ne vont qu'aux femmes 'skinny' (elles sont plutôt rares) ou alors aux fillettes de 12 ans…
- Osez le talon, même petit, il confèrera de la féminité à n'importe quelle tenue.
- Portez des vêtements amples, en particulier des hauts, tels que des tuniques ou chemises sur des bas foncés ou des jeans, n'hésitez pas à les accompagner d'une veste tailleur pour un côté plus glamour.
- Mettez en valeur vos atouts : une poitrine avantageuse, de belles lèvres pulpeuses, des yeux de braise ou une chevelure de Samson.
- Accessoirisez-vos tenues (gants, bijoux, sac à main, ceinture, ….)
Ah, j'oubliais, le plus important : SOURIEZ et faites rayonner tout votre être autour de vous !!!
Big, chubby, curvy or full figure, so many adjectives to describe ladies who do not belong to the classic beauty standards. Well, dear overweight ladies, do not think skinny girls are happier than you, they are at the least, more difficult to live with, since they try to stick to standards that require tremendous sacrifices for a price which is not worth the while!!!
First of all, we must all accept our genetic heritage and try to make the best of our lives in the body God gave us.
However, we can work out a bit, have a balanced diet ('anima sane in corpore sano'), and try to adapt our outfits to look the best way possible:
- Wear long loose tops, over dark-coloured pants or jeans, along with heels (which add a feminine touch to your outfit) and a nice trendy jacket.
- Let the world see your natural assets (generous breasts, well-curved lips, amazing eyes or hair)
- I almost forgot: Smile and let your spirit shine through!!!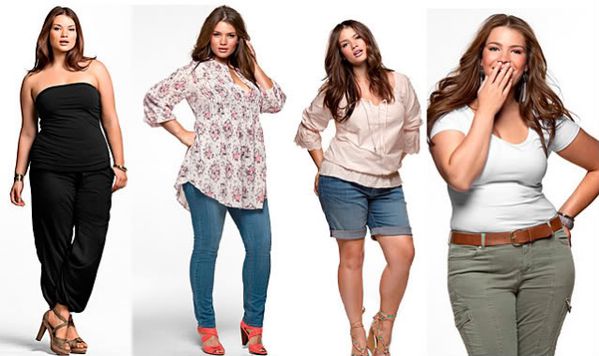 Pictures: at the top: Kate Dillon/ at the bottom: Tary Lynn for H&M (BIB).