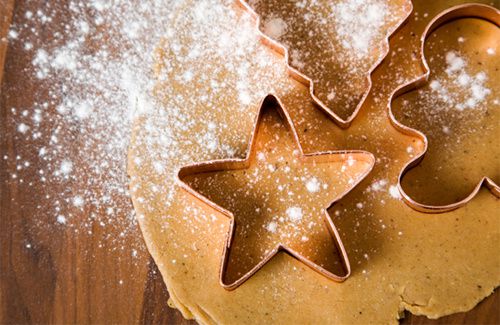 Coucou les filles, vous sentez comme un parfum de noel dans les airs?
Du coup, comme c'est mercredi et qu'il commence à faire un petit peu frais dehors, on s'est mises, ma puce et moi, à faire des Bredeles (mot alsacien qui signifie 'gâteaux de noel') et ça sentait trop bon dans la cuisine. En plus, on s'est bien amusées à les confectionner, avec des emporte-pièces de toutes les formes. Je vous file la recette, moi au lieu des 500 g de sucre, je mets 250g de sucre et 250g de poudre d'amande, c'est plus yumi. J'ajoute du sucre glace (mélangé à un jus de citron) pour un glaçage mignon saupoudré d'arc-en-ciel en sucre. Si vous avez des éclats de noisettes, faites-vous plaisir, ajoutez-les à votre pâte; bref, il y a plein de variantes possibles. Régalez-vous les filles!

Voici la recette:
500 g farine
250 g sucre
250 g beurre
1 sachet sucre vanillé
2 oeufs

Mélanger le beurre ramolli, le sucre et les œufs.
Ajouter la farine.
Pétrir => mettre au frais 3h.
Cuisson 200° 9 - 10 minutes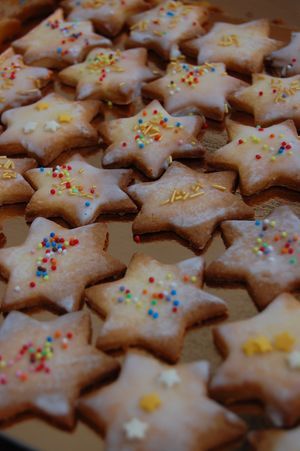 Hi there, there's like a smell of Xmas in the air so I decided, with my little one, to do Bredele cookies (alsatian word for Xmas cookies) and gosh, it smelled damn good in the kitchen. We also had fun making them, so why not try and make some? As for the recipe, I swap sometimes half sugar with powdered almonds, with a zest of lemon and icing sugar. To finish with, I spread "rainbow sugars"on top of them.
Here is the recipe:
500g of flour
250g of sugar
250g of butter
1 pack of vanilla sugar
2 eggs
Mix melted butter, sugar and eggs. Add the flour. Knead everything and leave it for 3 hours in the fridge.
Cooking: 200°C for 9-10 minutes. Enjoy!!!