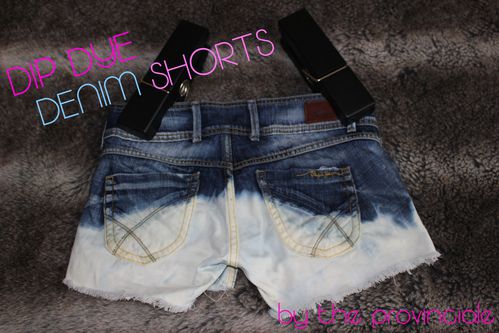 Comme chaque weekend, un little DIY très fastouche sur mon short en jeans qui, je trouvais, manquait d'originalité et de peps. Alors on javélise en pensant à ne mettre que la moitié du short dans l'eau javélisée selon les proportions suivantes:
_ 1/3 d'eau
- 2/3 de javel
On patiente jusqu'à ce que notre jeans ait bien blanchi, on rince à l'eau claire et direction la machine avec un peu d'assouplissant et de lessive pour faire disparaître l'odeur franchement inconfortante de la javel.
Le résultat est nickel!!!
Il ne manque plus que le beau temps et je vous fais très vite un petit look playa les cop's!
Like every weekend, I am doing a little easy as pie DIY on my shorts which, to my mind, were a bit too common for the crazy summer on its way!!!! Nothing better than bleach to change this state of things and turn my plain shorts into a trendy DIP DYE one!!!
Let's see how to proceed:
I use one third of water for two thirds of bleach and dip half of my short into a mixing bowl, the only thing I recommand is patience, we all know it's a virtue and we do seem to lose some when really needed...
So my advice is to wait until you really have reached the expected dyed colour on your shorts. Then and only then, you rinse it thoroughly and put it in your washing machine for an hour or so (I use a bit of washing powder + softener to make the odour of bleach go away).
The result is pretty neat, all I need now is some sunshine to show you how it actually looks on me!!!!
VoILa !!!