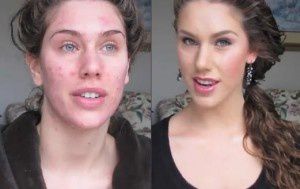 Une fois n'est pas coutume, The Provinciale parle de beauté aujourd'hui avec Cassandra, cette jeune ado américaine qui a fait le bonheur de plus d'un million et demi de personnes en dévoilant sur Youtube tous ses secrets de maquillage (utilisant essentiellement les marques 'Mac' et 'Make-Up Forever') pour couvrir sa jeune peau acnéique pour un résultat des plus probants.
En se mettant à nu (chapeau bas !), Cassandra a ainsi aidé des millions de jeunes filles complexées par leurs problèmes de peau à regagner confiance en elle. Alors un grand merci à Cassandra qui est aujourd'hui devenue top model, bref, le rêve américain n'est pas mort…
Les étapes :
1) Hourglass Veil Primer
2) Fond de teint Makeup For Ever HD en 125 and 120
3) Spray Mac Fix Plus
4) Anti-cernes Mac Studio Finish NC 30
5) Mac NC5
6) Smashbox Halo en clair ou beige
7) Poudre Makeup Forever Microfinish
8) Spray Mac Fix Plus
Cassandra, a young teenage American girl saved more than a million and a half young women by revealing on Youtube her make-up secrets (using 'Mac' and 'Make-Up Forever') to look like a real top model despite her big acne problems. Two thumbs up for Cassandra who soon after her video got a model job, no surprise, the American dream ain't dead yet...
Her make up steps:
1) Hourglass Veil Primer
2) Makeup For Ever HD Foundation in 125 and 120
3) Mac Fix Plus Spray
4)Mac Studio Finish Concealer NC 30
5) Mac NC5
6) Smashbox Halo in Light ou fair
7)Makeup Forever Microfinish Setting Powder