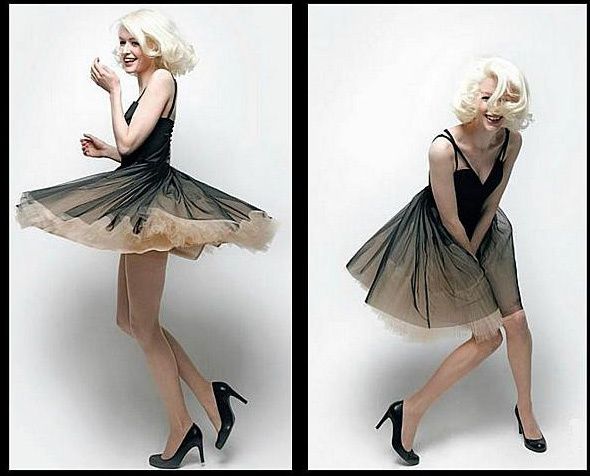 Ne cherchez plus, j'ai trouvé votre robe du réveillon : c'est Naf Naf link qui nous la propose, déclinée en plusieurs versions, robe bustier ou ballerine avec des touches de tulle de-ci de-là pour un résultat à la hauteur de ce que l'on peut attendre d'une robe de réveillon: Exaltation de la féminité, mystère et glamour à la Marilyn sont au rendez-vous.
En ce moment, de nombreuses réductions sont proposées sur leur site en ligne, alors si vous voulez vivre le conte de l'esprit de noël et du réveillon, n'attendez plus, foncez dans votre carrosse, escarpins de vair en main, parée de votre belle robe en tulle Naf Naf.
Dépêchez-vous, leurs soldes s'arrêtent ce soir !!!
¨Pour un look de tous les jours, associez votre robe à une veste en cuir de type perfecto I-code et des bottes militaires Ikks noires ainsi qu'une paire de manchettes en tulle de KarolineFelixDream sur le site 'dénicheuse' link.(merci à Paulette mag pour le tuyau!)

Don't look further, I found your Xmas and New Year's Eve dresses: the brand Naf Naf link proposes different fairy-like dresses, with bits and pieces of tulle for the best result we can expect for such celebrations: feminine exaltation, mysterious ways and Marilyn-like glamour are there.
Many discounts await you on their site, so if you want to live a marvellous tale, go for your princess dress, it ends today!
For a more casual look, match your dress with a perfecto leather I-code jacket, army-like Ikks boots and a pair of tulle cuffs by KarolineFelixDream on the great site 'dénicheuse' link.(thank you Paulette mag for the tip!)