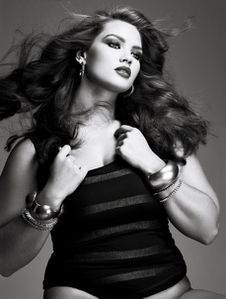 Cette semaine, The Provinciale se penche sur les parcours atypiques et inattendus de jeunes femmes que rien ne prédestinaient au succès et pourtant… Aujourd'hui, je vais vous parler de Tara, dont vous avez sans doute déjà entendu parler. Alors voici son histoire : Tara Lynn a aujourd'hui 27 ans, a connu la minceur avant de prendre du poids durant l'adolescence et compte, contre toute attente, actuellement parmi les mannequins les plus convoités de l'agence Ford NYC.
Tout commence lorsque Tara Lynn participe au shooting 'Curves ahead' (« les formes en avant ») organisé par le magazine new-yorkais 'V'. Puis tout s'enchaîne très vite.
A son actif, aujour'hui, elle a déjà fait la Une des plus grands magazines, dont 'Elle' ou 'Vogue', est le visage de la collection 'H&M BIB (Big is Beautiful') présente la collection automne-hiver 2011-2012 de Taillissime, pour la 'Redoute'.
Pourtant, Tara Lynn n'a en rien les mensurations des mannequins actuels et avoue préférer H&M à toute grande marque de designer. Elle mesure 1,76 mètre, pèse 85 kilos et s'habille en 48. Ses choix professionnels sont très éloignés du monde de la mode puisqu'elle gère un restaurant latino à Seattle avec son boyfriend tout en continuant de concilier les shootings à New York. Encore un beau parcours à féliciter !
C'est cette simplicité qui a séduit l'agence Ford et nous laisse espérer une ère plus saine dans le monde du mannequinat où le diktat de la minceur semble enfin laisser place à la volupté des formes. Il était grand temps…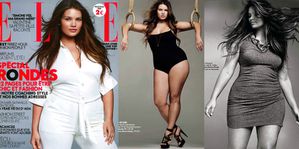 This week, The Provinciale is investigating the net for new unusual success stories and Tara Lynn's is another outstanding fashion personality as her way to fame is quite peculiar. Tara Lynn, now 27, was thin before getting bigger during childhood and against all odds met fame at the 'Curves ahead' shooting for the New York magazine 'V', then everything unfolded pretty fast in her life and now Tara is on the cover of every magazine, whether it be 'Vogue' or 'Elle', is the face of H&M BIB (Big is Beautiful), presents this autumn-winter 2011-2012 collection for 'La Redoute' and shall surely not stop climbing up the ladder of success so soon. However, she has no size to be modelling: 1m76, 85kg and wears a 48. Her professional choice could be seen as weird as far as the fashion world is concerned: she has opened a Latino restaurant with her boyfriend at Seattle while going on with the shootings in New York for the Ford agency which got really inspired by hiring her... Another successful life story for someone special and so simple who would rather wear H&M clothes over any designer's collection. Seems like skinny bodies are soon to be forgotten...Better late than never!