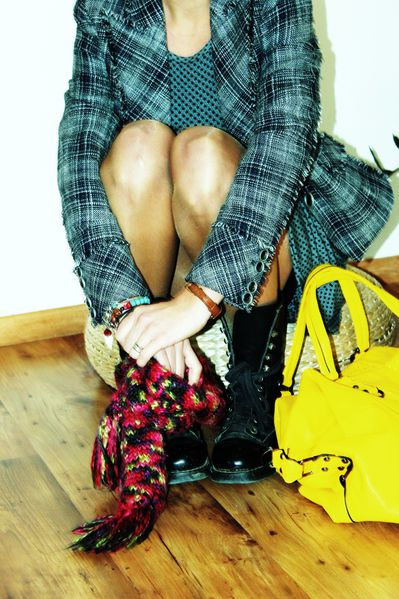 Salut les cop's, le soleil est revenu & avec lui mon humeur a fait un bond, du coup, je suis toute heureuse, vous savez à la limite de la fille naive qui sourit pour un rien, mais bon, je parie que c'est comme ça que vous me préférez, j'me trompe??!!! Allez bon weekend les cop's!!!Ma tenue? facile! La robe IKKS de ma pitchoune, ma veste chanelisante Esprit, mes bottes OXS, son écharpe Pimkie & mon sac Asos ainsi que ma ceinture Bershka.

Hi girls, the sun seem to be back this weekend and so my spirits are high again, I'm feeling good, ain'it weird to be so weather addict?!!!Have a nice weekend, girls!!!
Guess what? I'm wearing my daughter's Ikks dress, her Pimkie scarf, my chanel-like Esprit jacket, my Oxs booties, my Asos bag and my Bershka belt.